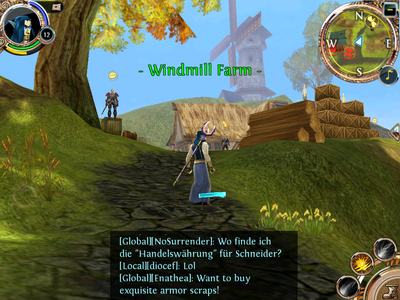 Windmill Farm

Region

Yes

Yes

Yes

Food Shop?

None

No

Several
Windmill Farm is the most western point of the Arcadian Forest . It is a place visited while on quests and also has a few notable features:
Teleport master
Buyback Merchant
Residents
Edit
Eric, Jeweler
Jack, Farmer
Patrilo, Tax Official
Kiloren, Captain
Shawn, Guard
Luise, Farmer
Benedict
Teleport
Edit
The teleport can be found by following the path behind the bank and across the rope bridge.
There are quests that can be started in the Windmill Farm. Below is a description of the quest along with a walkthrough.
Postal
Quest: Postal
Money Reward:

 


Item Reward:

Experience Reward:

Required Turn-In:

Level Required:

Repeatable?:

Quest prerequisite:

Quest Details:

Objective is to deliver the letter to Brent. Brent is outside the gates into Greenmont, to the left side when facing the gates.

The Farmer and the Wolves
Quest: The Farmer and the Wolves

Jack, Farmer


Windmill Farm

Money Reward:

 


2




Item Reward:

Experience Reward:

Required Turn-In:

Level Required:

Repeatable?:

Quest prerequisite:

Quest Details:

Objective is to kill 10 Sharp Teeth Wolves. The wolves are right next to where the farmer is.

The Farmer and the Bears
Quest: The Farmer and the Bears

Jack, Farmer


Windmill Farm

Money Reward:

 


Item Reward:

Experience Reward:

Required Turn-In:

Level Required:

Repeatable?:

Quest prerequisite:

The Farmer and the Wolves Quest

Quest Details:

Objective is to kill 8 small black bears. Go to where the wolves were and next to them are the bears. Kill and return to Jack for the reward.

Final Challenge
Quest: Final Challenge

Jack, Farmer


Windmill Farm

Money Reward:

 


2




Item Reward:

Healing Potion


Mana Potion







Experience Reward:

Required Turn-In:

Level Required:

Repeatable?:

Quest prerequisite:

The Farmer and the Bears Quest

Quest Details:

Objective is to kill the King of the Wolves. He is with the Sharp Teeth Wolves. Kill and return to Jack for reward.

Warning to All
Quest: Warning to All

Kiloren, Captain


Windmill Farm

Money Reward:

 


Item Reward:

Experience Reward:

Required Turn-In:

Level Required:

Repeatable?:

Quest prerequisite:

Quest Details:

Objective is to kill eight of the Waterby Angry Mob. Follow the road to Waterby there are two fields, one on either side of the road. Kill mob members and return for reward.

Flowers for Louise
Quest: Flowers for Louise

Shawn, Guard


Windmill Farm

Money Reward:

 


Item Reward:

Experience Reward:

Required Turn-In:

11 Little Red Flower


Blue Wrapping Paper



Level Required:

Repeatable?:

Quest prerequisite:

Quest Details:

Objective is to gather 11 little red flowers and a piece of blue wrapping paper. The flowers are along the road to Waterby between the fields. The blue wrapping paper is purchased from Eric, Jeweler.

Same Day Delivery
Quest: Same Day Delivery

Shawn, Guard


Windmill Farm

Money Reward:

 


Item Reward:

Experience Reward:

Required Turn-In:

Little Red Flower Bouquet




Level Required:

Repeatable?:

Quest prerequisite:

Quest Details:

Objective is to deliver the bouquet to Louise. Louise, Farmer is by the mailbox.

Mmmmmmm Pie...
Quest: Mmmmmmm Pie...

Louise, Farmer


Windmill Farm

Money Reward:

 



50

Item Reward:

Experience Reward:

Required Turn-In:

Level Required:

Repeatable?:

Quest prerequisite:

Quest Details:

Objective is to take the pie basket to Shawn.

The Persistent Lover
Quest: The Persistent Lover

Shawn, Guard


Windmill Farm

Money Reward:

 


6




Item Reward:

Experience Reward:

Required Turn-In:

Level Required:

Repeatable?:

Quest prerequisite:

Quest Details:

Objective is to obtain the sapphire necklace from Shephrina. Shephrina is in Waterby. Kill, loot body, and return to Shawn, Guard.

Clearing Some Things Up
Quest: Clearing Some Things Up

Shawn, Guard


Windmill Farm

Money Reward:

 


1




Item Reward:

Experience Reward:

Required Turn-In:

Shawn's Love Letter


Sapphire Necklace



Level Required:

Repeatable?:

Quest prerequisite:

Quest Details:

Objective is to take Shawn's letter and the necklace to Louise.

Broken Hearts
Quest: Broken Hearts

Louise, Farmer


Windmill Farm

Money Reward:

 


1




Item Reward:

Experience Reward:

Required Turn-In:

Level Required:

Repeatable?:

Quest prerequisite:

Clearing Some Thing Up Quest

Quest Details:

Objective is to take the necklace to Shawn, Guard.

Restitution
Quest: Restitution

Shawn, Guard


Windmill Farm

Money Reward:

 


1




Item Reward:

Experience Reward:

Required Turn-In:

Level Required:

Repeatable?:

Quest prerequisite:

Quest Details:

Objective is to give the necklace to Eric, Jeweler who is by the bank. Speak to Eric and accept Restitution. Speak to Eric again and claim reward.

[[Category:Arcadian Fore