Released September 22, 2015.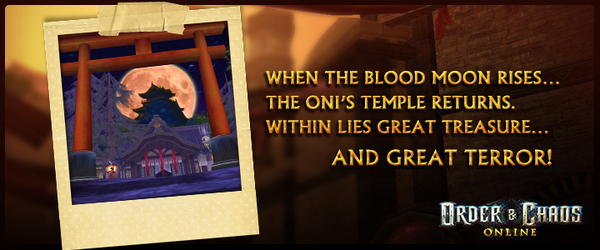 When the blood moon rises, the Oni's temple returns...
Within lies great treasure -- and great terror!
Come visit the new area of Ghost Island, where many monsters of Asian mythology reside -- can you take on Akaoni's challenge?
Defeat him, and you may even return to Haradon with a glorious new mount: the Okami!
You can access the Ghost Island from the Mist Trader Base Camp in Arcadian Forest. The Island is open until October 13th, 2015.[1]
New Event: Ghost Nocturnal Festival
Edit
The Ghost Nocturnal is now available!
There are many strange monsters and wonderful items!
An odd stranger called "Poor Guy" will appear in Greenmont.
If you participate every day, you'll reap all kinds of fantastic rewards.
Note:
The Ghost Nocturnal will be over in 3 weeks.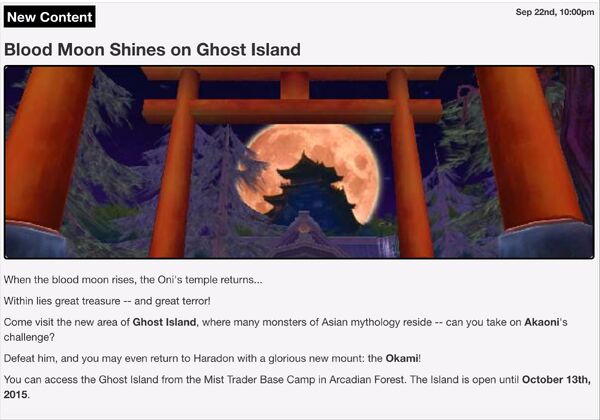 Maintenance Notes
Edit
Servers will go offline at 8:30AM BST (UTC +1), for opening of new in-game event.
There will also be bug fixes and adjustments to Mage's Talents
Expected downtime will be about 4 hours.[2]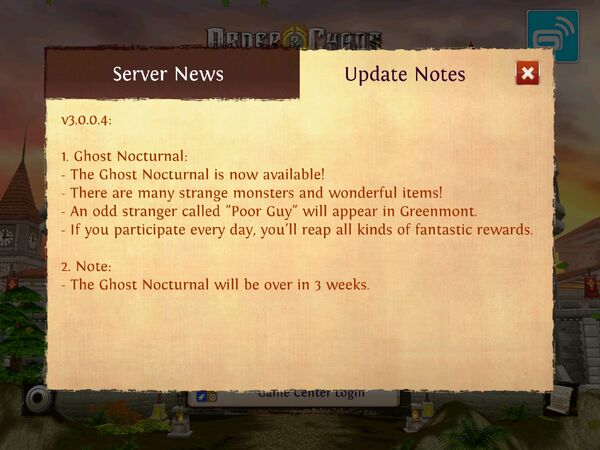 References
Edit
Ad blocker interference detected!
Wikia is a free-to-use site that makes money from advertising. We have a modified experience for viewers using ad blockers

Wikia is not accessible if you've made further modifications. Remove the custom ad blocker rule(s) and the page will load as expected.