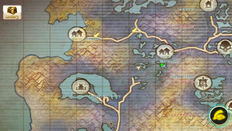 Port Verecy

Region

Swamp of Wyrms

Teleport

Yes

Mailbox

No information

Storage box

No information

Ubiquitous Nick

No information

BuyBack Merchant

No information

Quests

Yes
Port Verecy is located on the west side of the Swamp of Wyrms map. It has several quests for level 25+ players and has the only teleporter to The Whispering Islands. To be able to get to The Whispering Islands, you need to be level 30. Unless you want to die often. The quest that brings you to the port is An Opaque Request.
Below is a list of quests which can be started here.
Ad blocker interference detected!
Wikia is a free-to-use site that makes money from advertising. We have a modified experience for viewers using ad blockers

Wikia is not accessible if you've made further modifications. Remove the custom ad blocker rule(s) and the page will load as expected.