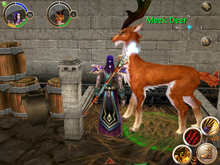 Meek Deer is a Tier 1 (T1) mount that can be obtained in Greenmont (from Braund in the -Stable of Mount Association- ) when the player reaches level 20 or can be purchased at various Mount Merchants for 99 gold. Player must have Riding Permit for Elves and Riding Skill I to use/ride this mount.
Speed: 20% (+2%) (Check Tips & Tricks)
Stability: 20
Description :
Color : Brown with White at the bottom of its body, back of front legs, front of hind legs and neck.
Extras : n/a
Tips & Tricks :
While standing still, press the Jump "Boot" Button to make it taunt. (Front legs go up)
Try jumping every now and then to give your mount a +1.5 - 2% speed boost.
Ad blocker interference detected!
Wikia is a free-to-use site that makes money from advertising. We have a modified experience for viewers using ad blockers

Wikia is not accessible if you've made further modifications. Remove the custom ad blocker rule(s) and the page will load as expected.