Essence of Soul is a reageant used in pre-70 level crafting to create epic equipment with any Advanced rank profession.
Essence of Soul

---

Binds when picked up
"Full of the soul's power. Precious material that strengthens equipment."
Obtained from
Edit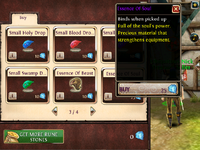 In an undetermined update, the cost of Essence of Soul was reduced from 25

to 8

.
Ad blocker interference detected!
Wikia is a free-to-use site that makes money from advertising. We have a modified experience for viewers using ad blockers

Wikia is not accessible if you've made further modifications. Remove the custom ad blocker rule(s) and the page will load as expected.