Order & Chaos Online
© 2011-2015 Gameloft
Version 3.1.0.h
www.gameloft.com
Game Credits as they appear in-game, typos, dupes, and all. --Cirose

Executive Producers
Arnaud "Abo" Bonnard, Fabrice Navrez
Local HQ
VP Production
Yu Fei
Studio Manager
Yu Fei
Lead Creative Director
Mei Dong Sheng
Lead Technical Director
Xie Quan Zhi
Vice Technical Director
Zhong Yan
Art Director
Wang Bing Zheng
2D Art Director
Ji Rui
3D Art Director
Jiang Wei
Lead Producer
Wang Qing Qing
Lead iPhone Division Producer
Wang Yao
Global HQ
Senior VP Production
Julien Fournials
HQ VP Production
Christelle Leroux
iPhone Division Manager
Mathieu Verlaet
Pocket HD Division Manager
Philip Bouchet
HQ Creative Director
Stanislas Dewavrin
Game Production Team
Game Evolution Producers
Wang Peng, Jin Yi, Pu Jin Ming, Fang Jia Yuan
Associate Producers
Sun Peng, Cao Han Xi
Studio Manager
Yu Fei
Lead Creative Director
Mei Dong Sheng
Game Design Leads
Xie Liang Xi, Wu Haoran, Wang Yuan Jie, Tian Wei Peng, Ni Zhong Wang, Wu Teng
Game Designers
Gao Yuan, Li Miao, Li Xiang, Du Yu, Gong Hao Tian, Wang Zhi Yu, Zhang Hao, Zhou Di, Li Jian Tong, Fang Chang Zhi, Liu Wen Jia, Xia Yue Meng, Zhang Chong, An Chi, Xiang Tian Yu, Wei Yu Song, Shu Chen, Zhu Pu Jie, Huang Xue Ting, Wang Qian, Guo Jing Yao, Yu Xu Tao, Xia Wan Lu, Li Ke Long, Huang Fan, Cai Qian, Wang Xi, Li Xu Dong, Lu Shuai, Zhang Jing Hang, Fu Xiao, Xu Qi, Zhao Fan, Yuan Jun, Zhang Hai Chen, Song Fu, Li Xiangcheng, Yang Ze, Zhang Xinpei, Zhang Lu, Wang Lei
Programming Leads
Zhang He, Wang Bing Lei, Zhu Jiang, Zhang Bai Bo, Wang Jian, So Zhi Zheng, He Qian Yong, Zhou Meng, Ma Ting Chen
Programmers
Yao Jun Lei, Deng Qiang, Jin Lian, Liang Jin Yao, Zhou Tian, Bai Hai Liang, Chen Shuo Shuo, Xiao Shu Fang, Zhao Shuai, Ye Li, Yuan Xuan, Qi Wu, Yao Zi Hua, Yu Ji Hang, Tang Xian Bo, Zhou Feng, Luo Chang Yinh, Yuan Hong Jie, Cui Shen Shen, Pang Wei Tao, Zou Xiang, Tu Ming, Chen Hai Tao, Zhao Peng, Lv Xiao Long, Li Meng, Qi Chen Peng, Chen Yue, Wang Mo Han, Yu Hai Zong, Zhang Wei, Gu Tong Huai, Zheng Zhou, Rao Miao
3D Graphics Leads
Li Huan, Liu Chun Mei, Su Huan Cheng, Tian Fei Fei
3D Scenes
Wu Xue Rui, Zhao Bing Bing, Wang Ji Tao, Lv Bao Tong, Bai Xue Song, Wen Shuai, Guo Jv Ling, Li Zheng, Bian Chang Liang, Yu Tao, Zhu Jin Dan, Xiao Hai Dong, Meng Xiang Ming, Li Fang, Xia Li, Wang Lu, Bai Hong Jian, Fan Ya Wei, Zhang Jian She, Li Mei Da, Gao Cui, Cai Suxian, Zhang Chunpeng, Chen Hong Ru, Wang Rui
3D Characters
Sun Lei, Zhang Yi Ting, Sun Zan Zan, Zhao Na, Guo Rui Rui, Han Fang, Liu Xiang Yu, Deng Qing Feng, He Jian Tao, Yang Si Xiang, Li Na
3D Animation
Sun Xue Wen, Ma Li Hua, Yang Yang, Deng Zhi Hua, Li Bo, Liu Yi Yang
3D Effects
He Xin Yu, Wang Xin, Xing Bao Lei, Yin Yu Fei
2D Artists
Wang Xiaoye, Ma Xiao Yi, Ma Ping, Wang Wei Yuan, He Qi, Liu Xin, Zou Xiao Xue, Shang Dong Liang, Zhang Xian Hong, Christian Robert, Wei Xing Yun, Wu Hao, Zhang Meng Meng, Zhang Ya Nan, Ren Yong Qiang, Lu Bin
Concept Artists
Hao Rui, Ma Shao Chun, Feng Yan Bo, Liu Qiang, Yohann Schepacz, Li Yan
Writers
Barton Bishop, Patrick Down, Tammy Goodman
Text Team
Zhou Dan, Gao Yuan, Yin Kai
Audio Directors
Mathieu Vachon, Arnaud Galand
Music Composed By
Diego Zaldivar, Maxime Goulet, Denis Vachon
Sound Designers
Adam Tsui, Geoff Buchanan
Voice-Overs
Paula Davis, Jack Hackel
Sound QA Manager
Ulrich Frantz
Sound QA Lead
Sébastien Clermont
Sound QA
Bernardo Cardenas Saucedo, Élodie Gauthier Rocheleau, Gabriel Boivin-Simard, Laurence Bérard-Mondou, Nicholas Bessette, Ophélie Gingras, Ramon Huerta, Samuel Araiza
Online Lead
Su Jian Hua
Online Developers
Giovanni Laurelli, Nicholas Lupien, Nicolas Trovato
Online Lead
Su Jian Hua
Online Developers
Xiu Shi Rong, Zhan Wei, Zhu Jun Wen, Feng Chao Yuan, Deng Hao, He Yi, Han Yuan, Liu Wei Ping, Liu Qian Guo
World Online Team
Yan Levesque, Alexandre Mathieu
Art Director
Arthur Hugot
Lead Concept Artist
Arnaud Simon-Laforest
Playtesters
World Playtest Manager
Nahuel González
Senior Playtester
Jorge Tarzian
Playtester
Lenardo Rodas, Lucas Peverelli, Laura Regueira
HQ Technical Director
33
Localization Manager
Alexis Green-Painchaud
Localization
Fred Leung, Alicja Buffa, Mariko McDonald, Kasper Hartman, Owen Weiss, Timothy LeClair, Eric Loiselle, Angela Roberts
Gameloft Customer Care
Zhao Jie, Yu Xin Hong
World QA Manger
Nicusor Cojocaru
World GE QA Manager
Razvan Marius Scurtu
CLJ QA Manager
Mihai Torsin
QA Project Manager
Andrei Alexandru Ilie
QA Leads
Dora Magyary, Mircea Stroia, Silviu Lascu, Vlad Alexandru Vesa
QA Team
Sebastian Pintea, Rares Macavei, Mihai Ninu, Sorana Mucichescu, Sorina Bozga, Andrei Darius Ilina, Adrian Pop, Razvan Popa, Raul Chirai, Adrian Dinte, Cristian Tocila, Mircea Razvan Alexandru, Bogdan Vlad, Alexandru Buteanu, Alexandru Floristeanu, Andrei Chintovan, Nicolae Pasca, Emanuel Pruker, Bogdan Broju, Cosmin Lesutan, Cosmin Ilie, Norbert Kaiser, Levente Miklos, Rodica Sermesan, Andrei Muresan, Mircea Chirila, Bogdan Surghie, Alexandru Varian, Alpar Biro Szokolovski, Alin Bodea, Sergiu Soptirean, Bartha Istvan Reszo, Renata Szakacs, Mihai Lungu, Tiberiu varaticeanu, Tudor Bota, Andrei Danci, George Crisan, Raluca Streja, Gabriel Crecan, Marius Ovidiu Anusca, Vlad Moldovan, Alexandru Ardelean, Andrei Ioan Lazaric, Radu Catalin Orza, Vlad Hossu, Attila Cseh, Alexandu Meza, Lorand Kertesz, Silviu Dobra, Valentin Radulescu, Alex Botis, Emanuel Matei, Andrei Mihai Ilca, Alexandra Oancea, Marius Suru, Tudor Vlad Chetan, Diana Raluca Marian, Felix Simon, Valentin Lup, Hegyi Magor Peter, Paul Andrei Luca, Oana Maria Solyom, Cosmin Ionita, Ioana Sinziana Mitu, Ovidiu Cristian Balu, Dan Ioan Pristavu, Radu Basca
Focus Group Team
Product Research Manager
Amos Berger
Product Research Analysts
Elizabeth Cronin, Raul Salcedo
Redsteam Art Director Studio Manager
Arthur Hugot
Art Director Concept Art
Arnaud Simon-Laforest
Concept Artists
Devin Platts, Robert Kim, Ming Zhu Yang, Johaness Helgeson, Li Yan, Dan Xie
Tracking QA Team
World Tracking QA Manager
Victor Catalin Raicu
Tracking QA Studio Leads
Stefan Nicolae Vinasi, Andrei Ionut Terec
Tracking QA Leads
Andrei Daniel Pop, Kinga Eva Pop, Mihai Smeu-Mare, Cristian Isvoranu
Tracking QA Senior Testers
Cristian Florin Petrea, Lorand "Gc3D" Kertesz, Andrei Catalin Simion, Dragos Nicolae Armeanu, Silviu "Mixeru" Dobra, Marius Florin Vecian, Andrei Musca, Adelina-Mihaela Cujba, Mihai Bob, Laurentiu Apahidean, Gabriel Simon, Calin Cristea, Ninel Dohan, Ciprian Sandu-Popa, Elena Simona Ancuta
Tracking QA Testers
Alex Marian Hrin, Andrian Raul Vlad, Arnold Dezso, Cujba Adelina-Mihaela, Darius Valean, Florin Mihai Patru, Paul Constantin Canatuli, Radu-Calin Marmorstein, Rares Rafa Muresan, Horea Dorin Moldovan, Vlad Bencovici, Marius Morar, Otilia Adina Stefan, Stefan Gorgan, Catalin Cosmin Hora, Eduard Sandor, Valerian Chetan, Alex Prodan, Cosmin Gabriel Cocrean, Vasile Adrian Avram, Andrei Calin Bagacean, Rares Ciprian Druhora, Victor Senatovici, Rares "DC" Ciprian Druhora, Robert-Alexandru Kislaposi, Mihai Horatiu Torok, IOAN Moldovan, Andrei Rinzis, Roxana Catalina Irimies, Andrei Calin Bagacean
Tracking Specs
Alex "Cradle" Dongo, Sorin Gabriel Bralostiteanu, Andrei "Dty" Teleuca, Radu "Stewie" Stefan
Special Thanks
Frédérik Rozon, Benoit Thomas, Wu Zhen, Feng Cheng, Dong Yi, Chang Jiang Hao, Liviu Barleanu
<< IN LOVING MEMORY OF CHRISTIAN ROBERT, EXCELLENT ARTIST, GREAT COLLEAGUE & FRIEND >>



GAMELOFT BEIJING STUDIO

THANKS

Palatino®: Palatino is a trademark of Monotype Imaging Inc. registered in the U.S. Patent and Trademark Office and may be registered in certain other jurisdictions.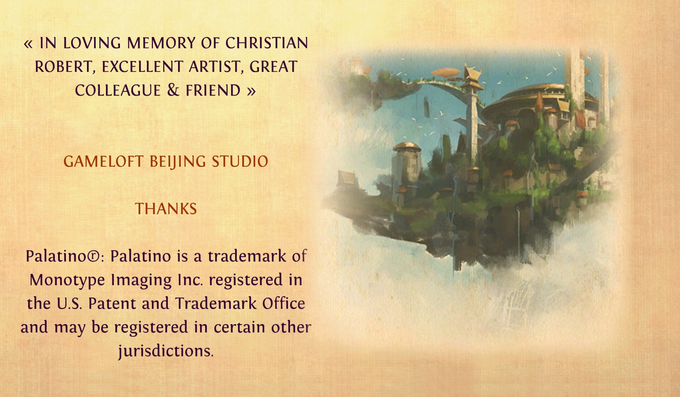 Ad blocker interference detected!
Wikia is a free-to-use site that makes money from advertising. We have a modified experience for viewers using ad blockers

Wikia is not accessible if you've made further modifications. Remove the custom ad blocker rule(s) and the page will load as expected.