Cliffwatch
is a friendly outpost most notable for having a
Teleport master
and
mailbox
. It is located just south of
Greenmont
. Along the road east is the
Aryurumoka Campsite
.
These are low level quests for players around level 6-10.
[6] Crime Scene Investigation -Talk to Ninalar.
[6] Clues - Talk to Lord Xenace.
[6] Illusionist - Kill Eivilence the illusionist.
[6] Royal Scholar - Talk to Welatrance in Greenmont.
[6] Search for More Clues - Search Eivilence's room for letters.
[6] The Scholar Yoric - Talk to the Scholar Yoric.
[6] It's All About Connections - Talk to Lord Xenace.
[6] Whereabouts - Talk to everyone you suspect and report to Lord Xenace.
[7] Gray Hill Watch - Talk to Slafar the ranger.
See also: Quests of Cliffwatch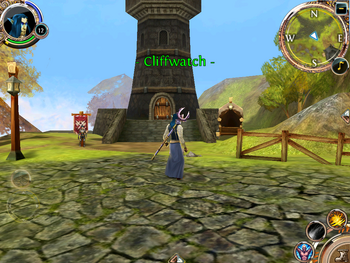 Ad blocker interference detected!
Wikia is a free-to-use site that makes money from advertising. We have a modified experience for viewers using ad blockers

Wikia is not accessible if you've made further modifications. Remove the custom ad blocker rule(s) and the page will load as expected.