Depending on the race chosen, the starting stats vary by a small margin, making some races more preferential than others when picking a class. This variation is only effective for the first few levels because equipment provides the most stats for a character and 1 to 5 stats point variation will have minimal influence at later levels.
The warrior is an offensive Order & Chaos online character class. A warrior is a pure melee class and can become a DPS (damage per second) or a tank.
A tank charges into battle before the other players and is responsible for keeping the aggression, or "aggro," of the monsters on him or herself. The tank specializes in defensive abilities that require lots of health and heavy armor. The main statistic for a tank is Stamina. A shield and one-handed weapon is the most suitable combination. Look for Dodge, Parry and Block values on your equipment choices.
The warrior can also take the role of DPS. With either two one-handed weapons or a two-handed weapon, the warrior is one of the strongest DPS classes in Order & Chaos online. The main attribute for the DPS warrior is Strength. Look for To Hit and Critical Hit in your gear choices.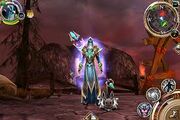 Mages are proficient in controlling the power of the elements. They cast powerful spells on their enemies, and have various tricks that allow them to be dangerous from a distance. Different talents also allow them to attack multiple enemies at the same time. The downside of mages are that they have comparatively low defence and HP which make this class somewhat difficult to train.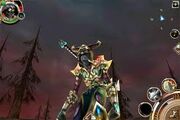 Rangers are masters of the bow and arrow, they are also extremely effective hunters/stalkers. Rangers may not hit high when close range, but their long-range attacks are deadly.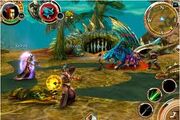 Monks have faith in the gods. Different kinds of faith bring different kinds of abilities. Some use divine power to heal others; while others devote themselves to training of body and spirit; and some are masters of fearsome magic that channels the wrath of the gods.